CDTech Fellows work with the organization to deepen the impact of our community-based work. Fellows have contributed greatly to increasing our capacity to serve community, from developing new programs to contributing to growing our evaluation methods.
Our Fellows are also part of our Public Allies program, where they work to develop their professional and personal leadership.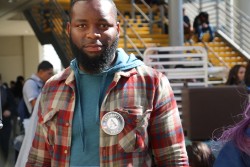 Alonzo Warren
Public Allies VISTA, ServiceWorks Special Projects Lead
Alonzo Warren is a kid from down the street and grew up in the belly of Los Angeles. Alonzo is the ServiceWorksLA Team Coordinator as well as the Service Project Development Lead. While Alonzo provides incredible analysis to the tasks at hand, his focus is to empower the soul of his community, encouraging the hearts and minds of youth and young adults become empowered when shown the opportunity and to better prepare them for success. He enjoys hearing stories from community members and building meaningful relationships throughout the process. He also enjoys challenging himself for personal and professional growth.
awarren@cdtech.org